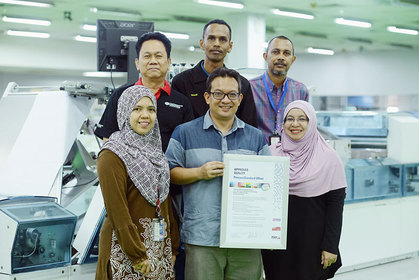 Front from left to right: Suhada (QA Senior Executive), Akmal Eirfan (Chief Operating Officer) and Raja Syuriani (Production Manager). Back from left to right: Ng Hoy Wah (Master Printer), Mohd Shahdi (Prepress Senior Executive) and Mohamad Fadhali (Production Assistant Manager).
Ultimate Print Malaysia attains PSO certification for the fifth time
Grup Percetakan Ultimate (Ultimate Print Sdn Bhd) is a one-stop printing solution provider in Malaysia that boasts state of the art printing technology and expertise. It offers services to both locals and internationals with premium quality products.
In September 2019, it attained PSO certification (ISO 12647) for the 5th time since its first certification in 2011 through the efforts and commitments of the whole team. Beforehand, it also obtained the international consensus as a good quality management organization when it was rightfully awarded the ISO 9001 quality management standard back in 2005.
With more than 30 years experience, Ultimate Print is well known as Fogra certified printing company in Malaysia proven its commitment towards customer satisfaction. This is a testimony of its commitment to quality.