The Fogra Media Wedge CMYK
The Fogra Media Wedge CMYK is recognised globally as the control medium for the digital contract proof and has been used worldwide in its different versions since 1997. In accordance to Media Standard Print any proof that is designated as a contract proof must contain an Ugra/Fogra Media Wedge CMYK. Its colour values must correspond to the reference values of the printing conditions, as specified in the standardization series ISO 12647, and the tolerances for the proofing process for digital data, as specified in ISO 12647-7. The colour fields of the 'Media Wedge CMYK V3.0 Proof' display an increased sensitivity in the highlights and shadows, compared to Version 2.X, to which it is completely compatible, i.e. all 46 colour fields of the existing Media Wedge are part of Version 3.0. The evaluation of Version 3.0 with the additional colour fields corresponds to the tolerances as have been specified in ISO 12647-7 and in the Media Standard Print.
All licensed Fogra partners provide target values in their product evaluation programmes. When selecting measuring devices and proofing systems, users of the Media Wedge should make sure that they support the new Media Wedge. It is important that these devices display results in accordance to standardized CIELAB measurement values of ISO 13655:2009 [11] that are without polarisation filter and without UV cut filter. If measuring devices do not comply with these specifications, for example they measure using UV cut filters, then the characterization data [e.g. FOGRA39] provided by Fogra cannot be used as target values without prior recalibration and a proper aim value conversion. The necessary target values should be obtained from the respective device manufacturer.
Standard version and file format
The standard package of the Media Wedge consists of three layout versions supplied as a combination. Thus it is possible for the user to check the entire process chain at any time. This is recommended, when new user programmes, or new programme versions are used or modifications in the procedures/ operations have been made. Testing of the workflow, as well as of the proofing system, is necessary for a secure and colour-reliable output in order to assure that the image content undergoes the same colour transformation as the Media Wedge. A test of the output systems alone is not enough to consistently avoid problem cases.
Specification Standard Package Fogra Media Wedge
CMYK V3.0
patch size 6 mm x 6 mm
overall dimensions 145.3 mm x 25.4 mm

Fogra Media Wedge CMYK V3.0a
patch size 8.5 mm [plus 1 mm separator patch] x 10 mm
overall dimensions 228.6 mm x 37.4 mm

Fogra Media Wedge CMYK V3.0b
patch size 6 mm [plus 1 mm separator patch] x 7 mm
overall dimensions 168.3 mm x 27.9 mm
Get the Fogra Media Wedge in the Fogra Online Shop (fogra.org/en/shop).
Altona Test Suite 2.0
Altona Test Suite 2.0 Application Kit is used for monitoring PDF/X compliance (PDF/X-4, PDF/X-3), rendering and colour accuracy, software and hardware components in a PDF/X workflow from premedia to the print run.
The completely revised and extended second edition "Altona Test Suite 2.0 Application Kit" comprises reference data files for application tests, reference prints (offset) produced according to ISO 12647-2, a comprehensive documentation in English and German and the standard printing conditions according to ISO 12647 (characterisation data and ICC profiles). The PDF/X data files of Altona Test Suite 2.0 are employed for the evaluation of digital output systems such as proofing solutions, CtP systems, conventional and digital printing systems. The Altona Test Suite 2.0 Application Kit comprises eight basic versions of Altona Test Suite reference data files (test forms A3).
The Altona Test Suite 2.0 Application Kit is a joint project of German Printing and Media Industries Federation (bvdm), Berlin, European Color Initiative (ECI), Berlin, Fogra Graphic Technology Research Association, Munich and of Ugra, St. Gallen. Printers, manufacturers of materials and systems (such as paper, printing machines) made profound contributions to the development of the Application Kit as project partners.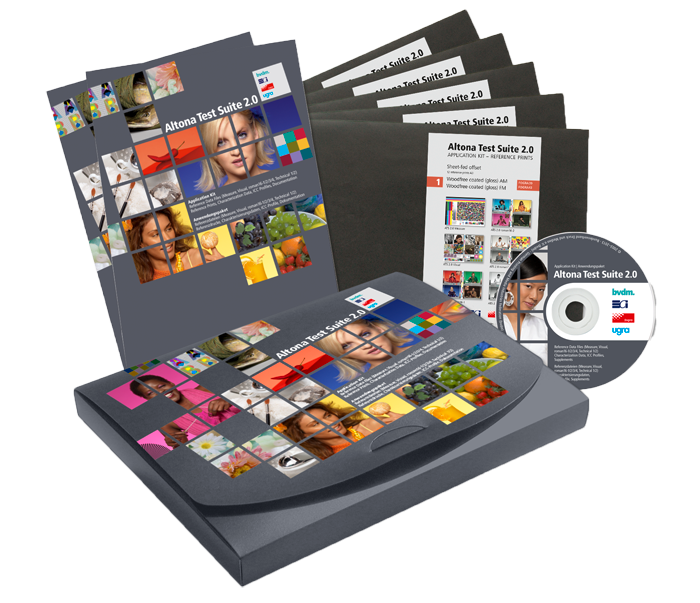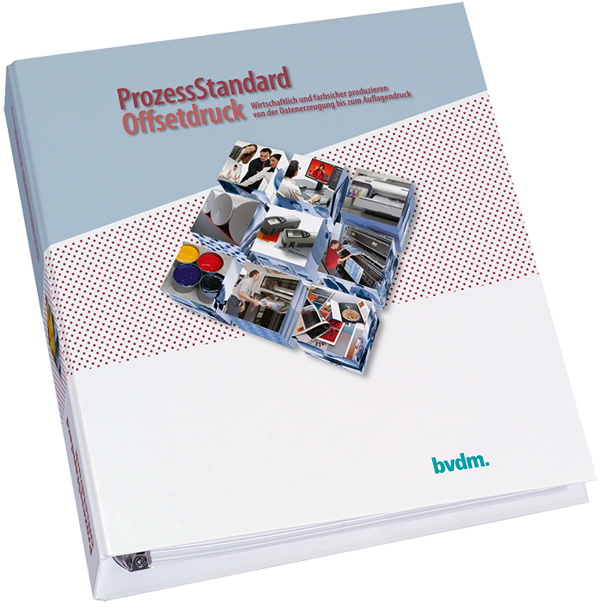 PSO Manual
Process Standard Offset (PSO) is the new international printing industry standard. It conforms with established ISO 12647 criteria. The PSO was developed by the German Print and Media Association in combination with the Fogra research institute. The aim was to create a reference benchmark, so that well defined international printing practices could be accurately documented.

The PSO manual contains 193 pages of expert information. It analyzes the printing process, and breaks that workflow into discreet steps. Each step is masterfully described, with appropriate hardware and software controls established. The reader will gain accurate information on a range of topics including hardware: densitometer, colorimeter, spectrophotometer; software: image analysis, measurement data correlation, interpretation of plotted curves, and more. Screening technologies, color management, substrate and ink properties and other components are discussed.
Exacting detail is given to each workflow step, including: proofing, film output, conventional and digital plate making, prepress quality control testing and evaluation, as well as production run standards and QC. Processes and sub-processes are defined. Optimization within each step is used to guarantee complete control over the outcome. The guide contains a wealth of reference data. Tables, charts and graphs provide target and tolerance values. Pre-printed worksheets support correlation with your own tables and curves. A glossary of important terms and definitions provides both vocabulary and meaning given to industry standard concepts.
STUDY-CD PSO
The CD-Rom is for those who so far have not been working intensively with the complex topic PSO but now want to gain a first overview without straight away having to work with the very comprehensive and technically orientated "PSO" handbook.
Due to the multimedia-based content presentation, very extensive animation of complex matters and numerous possibilities for interaction, the CD-ROM is also suitable to be used during your further education or studies
The content is split into seven chapters, each of them consisting of one to four topics. The CD-Rom comes with an 8-page booklet that contains the most important nominal values and tolerances for sheet fed, heat-set web printing and newspaper printing in a clearly arranged spreadsheet.

The CD-Rom with booklet Windows/Mac can be obtained via your responsible Federation.
Media Standard Print 2010 - Technical Guidelines for Data, Film, Proof and Production Print
Media Standard Print (Edition 2010), 33 pages A4 (PDF file) is currently being prepared. Media Standard Print is the basis of a smooth co-operation between print buyer, prepress services and printer at print media production: data file formats, colour formats, printing conditions, workflows, process control tools, based on international standards such as ISO 12647. The complete series of updated standard printing conditions for offset printing to ISO 12647-2 are available in the 2010 edition, jointly elaborated and recommended by bvdm, ECI, Fogra and Ugra. After completion and publication of another new standard printing condition for gravure printing (PSR V2 series, SC Plus paper) the Media Standard Print 2010 will be published by September 2010.
Roman16 bvdm test images
The roman16 bvdm reference images are technical test images for visual assessment of the printing process. Because the subject matter is difficult to reproduce, they help define visual accuracy of the print process. The roman16 Bundesverband Druck und Medien (bvdm - German Association of Print and Media Professionals) reference images consist of digital data on DVD-ROM, along with corresponding documentation.
The DVD-ROM data contains two sets of 700 dpi images in both ECI RGB and ECI CMYK. The CMYK files are available in 16-bit and 8-bit data. They were produced in Adobe Photoshop CS3 using the Adobe (ACE) CMM (color matching modules) using the perceptual rendering intent (perceptual) based in ISO Coated v2 (ECI) convertion. In addtion, the supporting ICC profiles (FOGRA39, ISO Coated v2 (ECI) and eciRGB v2) are also contained on the DVD-ROM.
Package Includes
Folder
Documentation (brochure) DIN A4, 64 pages - german/english
Booklet
2 DVDs with 16 reference images RGB/CMYK

Source of supply: Fogra or associations Print and Media Germany