CERTIFICATION ACCORDING TO PROCESSSTANDARD OFFSET (PSO)
The certification performed by the inventors of PSO is verified by an internationally recognized certificate. It attests that a company's production is implemented within the close tolerances of ISO standard 12647.
The certificate is valid for two years. Internally, it provides printing companies with a problem-free production process, from data collection to final print product. Externally, it documents quality capability. Quality-conscious clients are able to methodically search our database for certified companies.
With certification according to ProcessStandard Offset (ISO 12647), every company is able to independently and neutrally present its quality to clients.
WHO CERTIFIES PSO?
The certification of printing companies is implemented by the originators of PSO, Fogra and the associations Print and Media. Contents and procedure are regularly verified, optimized and adjusted according to the current set of rules.
Regardless of whether Fogra or the appointed regional association is in charge of the on-site certification examination: The printing results are cross-checked by the respective certification partner. This 4-eyes-system guarantees a neutral and reliable result.
Only the internationally recognized certificate by the regional associations Print and Media and Fogra verifies the independent and neutral 4-eyes-examination.
A considerable amount of the certification costs are invested in developing and adapting PSO - this, too, is unique within the entire industry.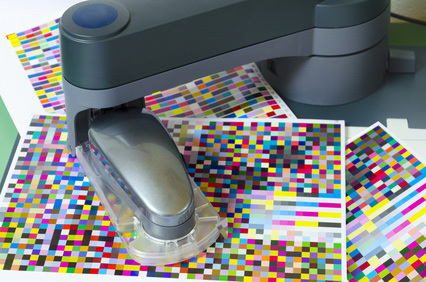 GOOD TO KNOW
Neutral certification
Fogra and the regional associations Print and Media certify as internationally recognized, neutral and independent institutions.
Necessary skills
Proper use of color management
Preparation of proofs for different paper types
Generating and depositing the correct characteristic curves in the CTP system
Producing a print run within close tolerances
No material-machines combination
No particular material-machines combination is certified. The company verifies that it can master the implementation of PSO. A wide range of printing substrates can be used, as long as they can be assigned to a standard paper type.
Assistance
Beforehand and if desired, certification partners can provide companies with extensive assistance. This includes:
Consulting and company reviews
Training on various subjects
Workflow assessment
Equipment valuations /Machine acceptances
Handouts and documentations
Only personal skills matter
During the PSO certification (day of examination), the company may only refer to its own staff and tools.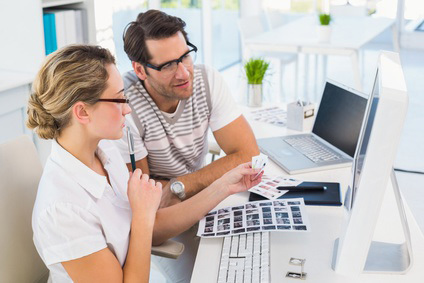 CERTIFICATION
The certification examination takes about a day. An employee of your certification partner is present on-site. There is a short introductory talk with the responsible employees of every department involved. The company briefly introduces its structures; production processes and quality controls are discussed.
During the following tests in the prepress department and in the press room, the correct implementation as well as compliance with tolerances are reviewed. The final evaluation takes place at Fogra or at the respective regional association Print and Media.
Important:
During certification day, only the company's own employees and technical equipment may be employed!
THIS WILL BE TESTED DURING CERTIFICATION
Qualified color management
On the basis of a test data set (InDesign), the available process is examined. Emphasis is put on the correct handling of color transformation with ICC profiles.
Proof production
You verify that you are able to create a color-consistent print simulation and can give measurable proof of this consistency.
Printing plate production
Evidence has to be provided which confirms that printing plate production is maintained at a constant level due to suitable control devices. In order to achieve the required printing characteristics, suitable tonal value correction tables have to be located in the Raster Image Processor (RIP) of the CTP system.
Setting up printing jobs/production run
A special test form is printed on a selected printing machine and examined in accordance with PSO, depending on the paper types used. The required solid colors and tone value increase have to be observed during print production. The consistency of the print run is randomly checked and evaluated.
PSO CERTIFICATION PROCEDURE
1: Conclusion of personal preparations
The decision to obtain certification according to PSO has been made, a preliminary talk with your certifier has taken place. You have put your entire production process under scrutiny, have internally and externally defined interfaces. You are able to produce a printing result via data handling, digital proof as well as printing according to the tolerances set by ISO 12647. You are equipped with the measurement devices necessary for process control and your employees possess the corresponding know-how in their fields of activity.


2: Applying for PSO certification
Contact your certification partner (Fogra or the responsible regional association Print and Media), apply for certification and arrange an examination date. You will be sent a contract which has to be signed and returned by post; payment of certification cost is requested. 1-2 weeks before the examination date, you will receive your test task on CD-ROM.


3: Preparatory phase
Once you have received the certification documents, the preparatory phase has started. You can use it to complete the prepress tasks and to carry out test prints on your machine.


4: Certification examination
During the examination, an employee of Fogra or the association Print and Media is present on-site. He not only verifies the required nominal values but also ensures the necessary quality controls.


5: Issuing of the certificate
After a successful examination process, your certifier provides you with a framed certificate which marks you as a "certified quality business according to ISO 12647 - ProcessStandard Offset". The certification package includes a seal of approval which you can freely display on your printing products or on your homepage as a TIFF file. Furthermore, your company will be listed in the database of PSO-Insider.


6: Intermediate examination
After one year, an intermediate examination takes place which requires another test form to be printed. The certifier does not have to be present on-site.
PSO CERTIFICATE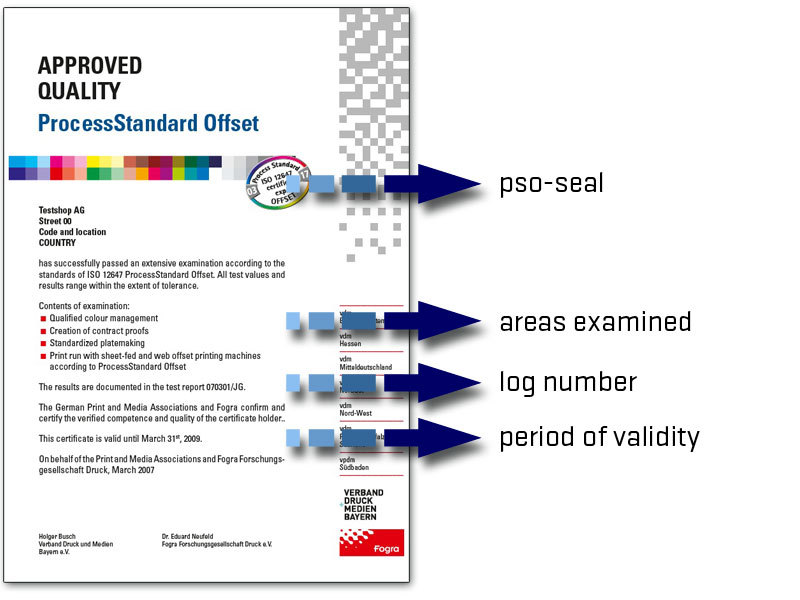 The certificate displays the fields of production which have been evaluated (proof printing, sheetfed and web offset, etc.). Moreover, it depicts the period of validity as well as the applied practices according to ISO 12647.
PSO SEAL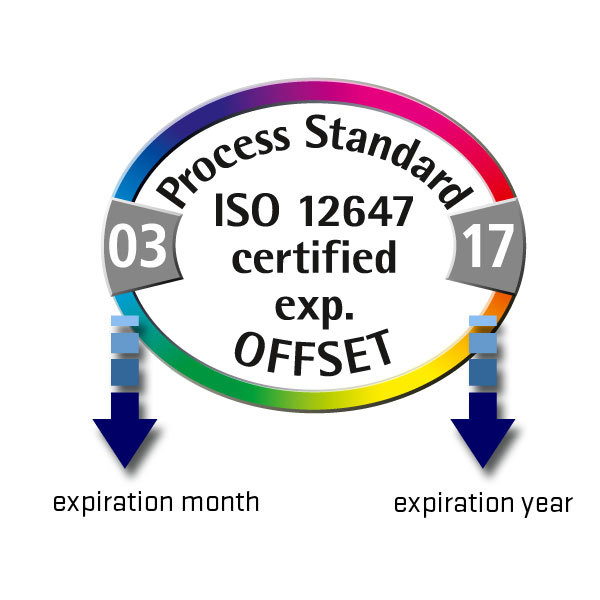 The digital seal of approval also displays the period of validity. The two digits on the left signify the month, the two digits on the right the year of expiration of the two-year validity.
Always pay attention to the seal's validity and be sure to maintain an original certificate by Fogra and associations Print and Media!
LISTING IN THE PSO DATABASE
As a certified business you are listed in the database of this PSO website. You can be located under your company name, postal code and type of certification. The hit list instantly displays your full company name as well as your address and certification(s).
As part of a special service, you are able to add personal information, such as contacts, services, machinery, products and production process. This information is also recognized by search engines and favorably affects your company's presentation.
After validity has expired, your database entry is automatically deleted. Feel free to contact us about re-evaluation.
ADDING PERSONAL INFORMATION
Add information about your personal services, products and machinery to the database. You also have the option to display your company's logo and other images on the details page. All information is made available to visitors with just one click. Every certified company receives personal (protected) access to the database. Further information can be updated via a web browser.
Include contact details - the database offers industrial clients, publishers and agencies the perfect platform for finding a suitable partner in print and media!
PSO CERTIFICATION COSTS
The certification costs generally depend on a company's size and membership in the associations Print and Media or Fogra.
Moreover, the costs depend on the number of employees and the scope of certification (e.g. prepress without CTP, printing and prepress or sheetfed and web simultaneously).