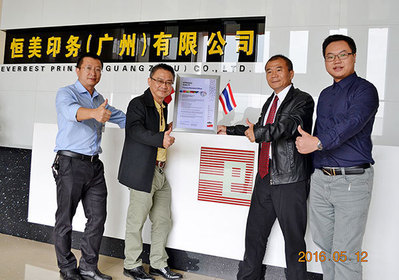 From left to right: Paul Lee (Prepress Manager, Everbest), Jeremy-Mark Chan (Vice GM, Everbest), Sunny Liao (Sales Director South China, Fujifilm), Nelson Zhao (Senior Technical Manager and Fogra PSO Partner, Fujifilm).
The first Fogra PSO certificate of China according to new ISO 12647-2
Recently, Everbest Printing (Guangzhou) Co., Ltd. had successfully obtained PSO (12647) certificate by Fogra through cooperating with the PSO partner of FUJIFILM in 2016. This is also the first Fogra PSO certificate of China according to the new version of ISO 12647-2 which was launched end of 2013.
Since beginning of 2016, Fogra suggests that all PSO certifications should follow the new standard rather than the old one, in which FOGRA39/47 were replaced by FOGRA51/52, and M0 mode was upgraded to M1 mode. In this case, Everbest took the first step to fulfill the new ISO standard by upgrading some instruments and software, such as Techkon SpectroDens, CGS ORIS Color Tuner Web, and eventually succeeded.
It is also the third time of Everbest to get the PSO certificate. "We had benefited a lot from PSO, not only the enterprise image outside across the customers, but also the whole process inside from file receiving and normalizing, color management, digital proofing, light viewing and platemaking to offset printing at last. Especially the PSO passed with the new updated ISO 12647-2 standard this time, which means Everbest is able to make response to the latest customer requirements. It can say that we have stood in forefront of the industry, in this way FUJIFILM is true partner that's worth believing in." Said by the vice general manager Jeremy-Mark Chan.