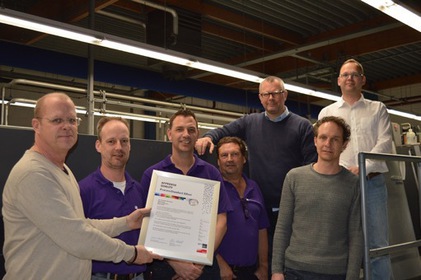 From left to right: Piet van der Velden (PSO certification partner of Fogra), Raymon Smit, Philippe Colin, Ron Leeuwe, Jeroen Hoppenbrouwer, Menno Root and Alex voor den Dag.
Joh. Enschedé Amsterdam (Netherlands) has acquired its fourth time PSO certificate
In February 2016, Joh. Enschedé Amsterdam (Netherlands) acquired its fourth time PSO (ISO12647) certificate for qualified plate making and printing, an outstanding achievement of their excellence in quality control of products. They already started with their first PSO certification in 2009.
Joh. Enschedé Amsterdam is one of the leading partners in design, development and producing of innovative print production for the food, retail and security markets in Europe. Besides the PSO certificate they have certificates for ISO 9001, ISO 14001, FSC and CWA 14641 which proves their commitment in control and quality in their workflow.
They have a comprehensive range of machines available from Heidelberg printing presses and a range of high quality digital printing presses. Every day a team of motivated and skilled professionals are producing the high quality from design to printed end result.
For Joh. Enschedé Amsterdam the PSO certificate is a result of their efforts in achieving quality controls and standardized workflow. It is an important commitment towards making the client's wish reality.