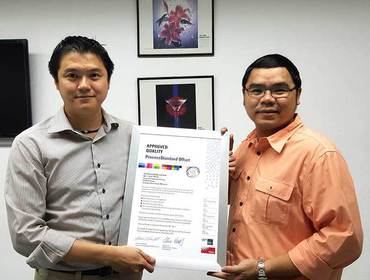 From left to right: Ijay Teh (CEO) and Stanley Teh (COO)
Hoffset Printing Sdn Bhd (Malaysia) acquire its PSO certificate for the third time
Hoffset Printing Sdn Bhd achieved the first PSO certification ever granted In Malaysia in 2011. They reaffirmed their continuous commitment in enhancing quality control skills to global standards by acquiring for the PSO (ISO 12647) certificate for the third time in November 2015. This was done in the fields of qualified colour management, contract proofs, plate making and production printing.
This achievement was in line with the commitment to quality of Hoffset Printing, joining together with other certifications that had been already achieved since 2011 (PEFC and FSC labels).
Hoffset was established 37 years ago and is one reputable commercial print shop in Malaysia that produces high quality print products that meet the most stringent international standard. They have a comprehensive range of multi-colour printing machines to fulfil their client's requirements.
Hoffset is active in both offset and digital commercial printing.