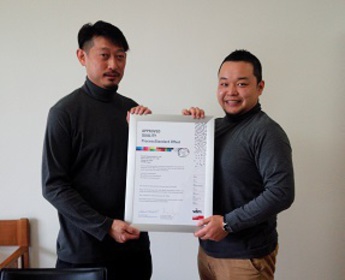 From left to right: Hirofumi Iguchi (Printing Director) and Takeo Dairaku (Manager).
Japanese design studio gets certified according to PSO
In January 2014, Dairaku Design Studio (Tokyo, Japan) obtained the PSO certificate in the fields of qualified color management and creation of contract proofs. This is the second PSO certification of a design studio in Japan. Dairaku's main business field is industrial package design, and their main clients are Asian industrial manufacturers. Printing is outsourced to various print shops in Asia.
So far Dairaku was suffering from clients' strict demands for high level color quality that is different from the customs of Japan. The clients require color quality to be standardized by figures, which also means that quality shall be measurable. But it always was hard work and almost impossible to control color quality of outsourced prints.
"We looked for various print standards and certificates for years, and finally came to the decision that the PSO certificate is what we need", says Mr. Dairaku, Manager of Dairaku Design Studio. "PSO fits to our demands. We have good experience so far, and hope that PSO dramatically helps to improve communications with clients and print shops worldwide."