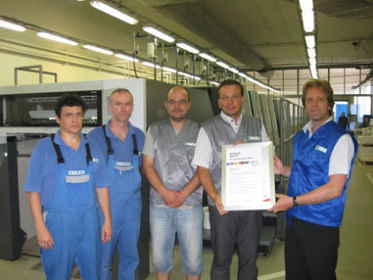 From left to right: Milan Rajnoha (Operator), Jozef Strecok (Operator), Vladimir Caban (Chief of Prepress Studio), Mirko Breznan (Production Director), Jürgen Gemeinhardt (Fogra).
TBB gain their fourth-time PSO certification
Since 2008 TBB, a.s. from Slovakia is certified according to PSO (ISO 12647) in the fields of qualified colour management, creation of contract proofs, standardized platemaking and sheet-fed offset printing. In August 2014 they renewed their valuable Fogra/bvdm certificate for the fourth time. This is just one important part of their comprehensive certification work, which also includes FSC, SMETA, IMS and PDF/X Output.
As a customer oriented European book printer with products of high added values, they consider the participation in spreading knowledge and information as their mission.

TBB says:
"We approach to every product and service for customer with regard and responsibility. We upgraded the relationship with the customer to a mutual profitable partnership."

"We build our position on the market exclusively with ethic methods, reverence to legislation and with values as reliability, precision, affordable price and accommodating attitude."

"Employees are the most important value to our company. Only with collectively oriented effort of skilled professionals and competent colleagues we can achieve success."

"The protection of environment we consider to be one of our prime missions. We actively endeavor to protect our surroundings by minimizing the risks of the impact to the living environment and our employees."