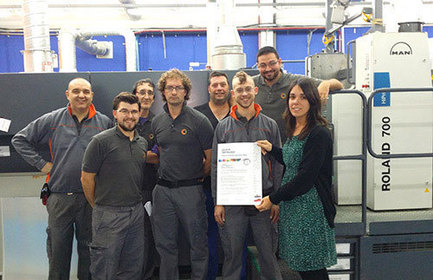 Centro Gráfico Alborada obtains its PSO-ISO 12647-2 certificate for the second time
In August 2011, Centro Gráfico Alborada obtained this international certification, including prepress, plate making process and offset printing. It became one of the six companies in the sector in Spain that had this prestigious certification. This meant a capacity of predictable and repeatable print production which made the difference from their competitors.
This achievement was in line with the commitment to quality of Centro Gráfico Alborada, joining together with other certifications that had been already achieved since 2009 (ISO 9001 on quality management, ISO 14001 for environmental management, OSHSAS 18001 in protection and safety, PEFC and FSC labels) and trying to anticipate the needs of new national and international markets.
That is why, in August 2014, through the efforts of the whole team, they achieved again this accreditation.
Centro Gráfico Alborada is a company with more than 45 years of experience in the sector producing print jobs in both offset and digital, offering innovation, quality and commitment without losing sight of sustainability.