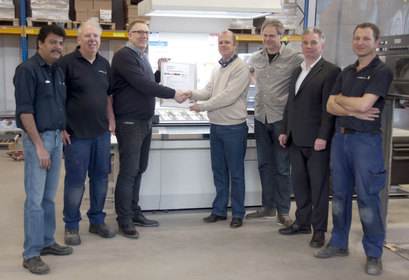 From left to right: Keso Ramdutt, Paul van Maarsseveen, Piet Bikker, Piet van der Velden (Colour Concerns, PSO certification partner of Fogra), Marc Römer, Bert van Heusden, Ron van Impelen.
Successful re-certification of ZuidamUithof
In January 2015, ZuidamUithof Drukkerijen (Netherlands) acquired their second certification according to PSO (ISO12647) for plate making and production printing – an outstanding achievement of their excellence in quality control of products. Their second PSO certification is a confirmation of their continuous commitment to standardized quality and an important commitment towards making the clients quality wishes reality.
ZuidamUithof is producing print work with 15 dedicated employees. All employees are actively contributing to produce first-class quality for the right price on their comprehensive range of machines they have available.
This PSO (ISO12647) certification together with the FSC® certification and the ISO 9002 and 14001, proves how serious ZuidamUithof is taking their day to day business.