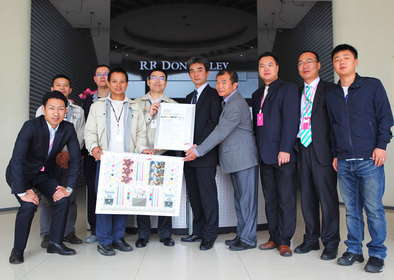 RR Donnelley China proudly present their second PSO certificate.
RR Donnelley in China renew their PSO certification
RR Donnelley received the Fogra/bvdm PSO certification after the Chinese New Year of 2015. It was the second time since they got their first certificate in 2012. They are now one of four Fogra/bvdm-certified printing factories in China, which enables them to produce high quality in an efficient and economic way.
From the early beginning of last year, RR Donnelly had been searching for a qualified Fogra PSO certification partner. It was FUJIFILM that finally meet the requirements of RRD perfectly. Besides the existing long-term cooperation of both companies FUJIFILM already helped other printing factories to gain the valuable certificate.
It took almost one month to normalize and improve the printing process of RRD from the document input, CMS conversion, DTP process, digital proofing, standard light viewing, CTP plate output and printing. FUJIFILM also formulated detailed training and practical audit plans according to the situation and production. Finally all required certification data, reports and samples for both proofing and printing were successfully verified by Fogra and bvdm officially. This means that the printing process of RRD has achieved the level of ProcessStandard Offset (ISO 12647) in all aspects.