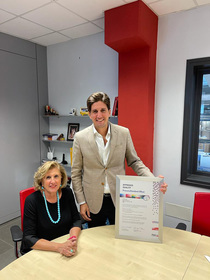 From left to right: Mariarosaria Barile, (CEO of ACM) and Vincenzo Gentile (Business Development Manager of ACM).
ACM produces Fogra certified quality
Azienda Commerciale Meridionale (ACM SpA) born in the 1960s, is a family company specialized in digital, offset and roto-offset printing. The key objective of ACM is the continuous improvement of print quality, combined with the use of renewable energy. This happens thanks to a team always updated on the latest technical solutions proposed on the market to improve print quality.
Mariarosaria Barile, CEO of ACM, says: "Quality is not just a point of view but it is something concrete ... The Fogra PSO certification is a milestone that demonstrates our commitment to provide guaranteed quality products to our customers".
ACM with seriousness, professionalism, precision and continuous training produces products guaranteeing a FOGRA CERTIFIED quality!