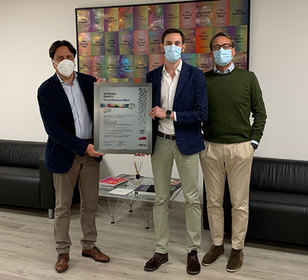 From left to right: Carlo Carnelli (Fogra PSO Partner, ColorConsulting), Flavio Pessi (Production Manager, Musumeci) and Michele Biza (Sole Director, Musumeci).
Musumeci Industrie Grafiche spa – History, luxury and Fogra certified quality!
The company's birth already was in 1837 with "Tipogarfia Lybotz" precursor of the future "Musumeci SpA" founded in 1972. It therefore has nearly 200 years of printing history in its DNA. The key objective of Musumeci SpA is to improve every day by finding ideal solutions for its customers and their projects. This happens by constantly reviewing the latest technical solutions proposed on the market to continue to evolve in print quality. Mr Flavio Pessi, Production manager at Musumeci SpA, says: "We strongly believe in the value of the experience of our technicians without forgetting to invest in innovative machinery that improves speed, precision and efficiency. The Fogra PSO certification is a milestone that formalizes what we have always implemented. This is our dedication to achieving quality " Carlo Carnelli, General Manager of ColorConsulting srl and Fogra PSO Partner says: "Upon entering Musumeci you can immediately feel the dedication and attention to work and quality and this feeling has never changed throughout the audit. I found the willingness of all the company's team to live the certification, day after day and not only the need to pass an 'examination' and then forget it until the next one." Musumeci works alongside the most prestigious luxury brands, enhancing their uniqueness, personality and being able to guarantee a FOGRA CERTIFIED quality!