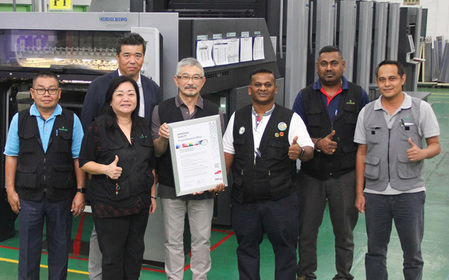 From left to right: Mr. Zamri Bin Rahsad (Production Manager), Mrs. Serina (Deputy Managing Director), Mr. Yasuyuki Ando (General Manager Sales), Mr. Ryuji Yamagata (President), Mr. Nmjayaraju (Assistant General Manager Operation), Mr. Suthagar Nair (Assistant Manager Maintenance), Mr.Yusof Bin Jantan (Printing Executive)
Yamagata (Malaysia) Sdn. Bhd. attains PSO certification for the third time
Established in 1991, Yamagata Malaysia offers state-of-the-art production facilities aimed at delivering the best to its clientele in the Asian region and globally. It is a subsidiary of Yamagata Corporation, a global company with its headquarter situated in Yokohama, Japan. Having been in the industry for over a century, the parent company is reputable and well-established, producing some 15 million manuals every month and with offices all over the world.
In September 2019, Yamagata Malaysia attained PSO (ISO 12647) certification for the 3rd. time since its first certification in 2015 through the diligent efforts and commitments of its production team. Yamagata Malaysia is proud of its dedication to its work and its reputation for excellence, which is derived from its uncompromising stand on quality.
"Providing our customers, the Japanese-quality service has been the forefront of our founder, Heiji Yamagata's philosophy since 1906."