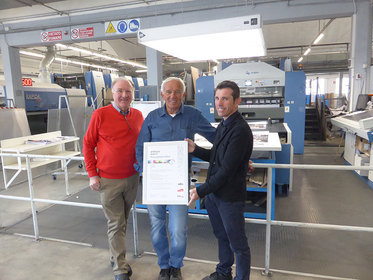 From left to right: Dario Martinelli (General Manager), Gianni Girardi (Plant Manager) and Emanuele Cheller (Technical Director).
Printer Trento: the art of printing, Fogra certified!
Printer Trento is a successful graphic company in the publishing field. Since 1980 it develops unique creations and provides high quality services and products, always paying attention to the environment. In 2012 it was elected the best Italian Graphic Company thanks to its constant technological renewal.
To ensure a high level of standardization and quality to its customers, the company has obtained and renewed, also in 2019, the Fogra PSO certification.
According to Mr. Emanuele Cheller - technical director of Printer Trento: "The Fogra PSO certification generates a series of key benefits including: let customers know that the 'product' follows recognized, certain and reproducible specifications as well as it meets international standards. On the other hand, from a technical point of view the certification helps in the continuous verification of processes that are constantly under control."
For Printer Trento's customers, the benefits are not only in guaranteeing consistent and certified high-quality products, but also in the warranty that their products respect the environment.