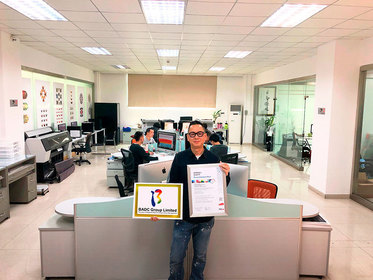 Tin Chun Shan (General Manager of BADC) proudly presents the PSO certificate.
Prepress certification according to PSO in China
In 2019, BADC had successfully passed the prepress part of Fogra's PSO certification, which leaves no doubt that it is able to work according to the international standard. Furthermore BADC is one of the six companies in China to obtain the valuable PSO certificate. All of its procedures have been normalized and formulated with SOPs (Standard Operation Procedures). They were adjusted to comply with the most relevant ISO standards: From ISO 15930 for PDF creation, ISO 13655 for colour measurements, ISO 12646 for soft proofing, ISO 12647-7 for contract proofing, ISO 3664 for standard illumination to ISO12647-8 for digital printing, ISO 2846 for Ink consumables and ISO 12647-2 for offset printing.
BADC Group Limited was established and registered in Hongkong, offering professional design, page layout services, color management consultancy and digital & offset printing on a worldwide basis. It has more than 30 employees, including experienced color consultants and skilled prepress stuff, who are experts in standardization like ISO 12647. From the beginning, BADC had invested in hi-end hardware and software systems to ensure the best quality from data input to print production, such as: APPLE workstation, EIZO CG-series monitor, EPSON 9910, Komori & Heidelberg offset printing machines, HP Indigo 5500, X-Rite Exact, X-Rite i1iO2, Techkon SpectroDrive, GMG & CGS color management system, Bodoni PressSIGN, Curve4 tools, JUST light booth etc.