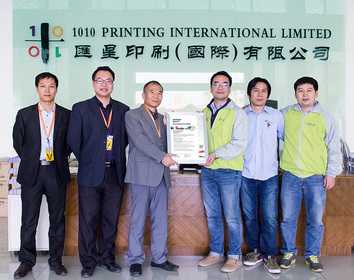 From Left to Right: Mike Yao (FUJIFILM), Nelson Zhao (Fogra PSO Partner, FUJIFILM), Sunny Liao (FUJIFILM), Gilbert Tang (Vice General Manager, 1010), Jianming Cai (Press manager, 1010), Wenfeng Liang (Prepress Manager, 1010)
1010: A new certified print shop in China
1010 Printing International Limited successfully passed the certification according to PSO (ISO 12647) with the assistance of Fogra partner from FUJIFILM. Hence, they are the sixth print shop in China, which gained the valuable certificate from Fogra/bvdm.
"The PSO certification is a starting point rather than an ending", says Mr. Gilbert Tang, Vice General Manager of 1010. "Practice shows that the elements in terms of production environment, process control and printing quality are able to achieve the international printing standard, even the latest ISO 12647:2013. But this is not enough. What we have to do next, is to pay more attention to standardization – not only in certification, but also in routine work, not only in one department, but also across the production line as a whole, which will definitely be beneficial to the efficiency improvement and competitiveness enhancement of 1010 Printing International".
Lion Rock Group is formerly called the 1010 Printing Group Limited. Founded in 2005, the group was established by a management team with substantial experience in the international book printing market. The group is now one of the world's leading suppliers of print services for book publishers. They have manufacturing plants in China, Singapore and Australia.
We look forward to witnessing more and more printing factories in China have interest to actively take part in the Fogra PSO certification, the printing standardization along with the increase of China's power in the international arena.