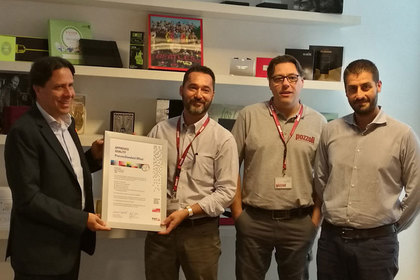 From left to right: Carlo Carnelli (Fogra PSO Partner, ColorConsulting), Stefano Oggioni (Prepress input Supervisor, Pozzoli), Andrea Pasquini (Printing Room Supervisor, Pozzoli), Marco Zacchetti (Production Manager, Pozzoli).
Pozzoli Spa gains its third Fogra PSO certification
Pozzoli Spa is a leader in high-end packaging, tailor-made. The company works, especially, on the foreign markets of Northern Europe and the United States that choose them as synonymous of quality and modernity. This is a demanding market that requires the respect of rigid standards and it prompted Pozzoli to undertake the Fogra PSO certification and, over the years, to keep it up to date.
In July 2017, Pozzoli updated its Fogra PSO certification to the latest ISO 12647-2: 2013 revision that is commonly associated with FOGRA51 and FOGRA52 characterization data. An important goal that gives them the Italian primacy of respecting a new standard, which in the next few years, will be adopted by the whole sector.
In the past, Pozzoli has started a calibration strategy and over the years, with the help of ColorConsulting, it achieved a result of excellence that reflects the company's mission in terms of innovation.
The Fogra PSO certification for Pozzoli has been an international recognition of quality assurance and the company's expectation is to increase visibility and demand from new markets.